[ Historic Governors' Mansion ]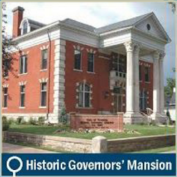 The Wyoming Historic Governors' Mansion offers a variety of programs focusing on the history of Wyoming, the city of Cheyenne, and the states Governors'. The Mansion is able to tailor to most every age and grade, ranging from elementary school age to high school as well as adults. Suggested group size is no more than 40 students for a single tour. Larger groups can schedule tours; however times will be broken down in segments (e.g. 1:30 pm – 2:30 pm, 3:00 pm – 4:00 pm) to assist staff in touring groups over 40 through the mansion. While groups will traditionally get general tours giving an in-depth background of the Mansion and its history as the home to the First Families, we also have the ability to focus on particular subjects, such as architecture, Governor history, Cheyenne history, and regional history by request.
Historic Governors' Mansion
300 East 21st Street, Cheyenne, WY 82001
Contact Person: James Fuller, Museum Assistant
Phone: (307) 777-7878
E-Mail: james.fuller@wyo.gov
Average length of visit: 45 minutes


**Please note: The Historic Governors' Mansion is closed Mondays from October until the end of May. Tours are available Tuesday through Friday, 9 am to 4 pm. Due to the nature of our seasonal hours, we request that you book your tour at least two weeks in advance.