[ Wyoming State Capitol ]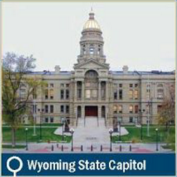 The Wyoming State Capitol is now open to the public after a four-year restoration and renovation. The Legislature appropriated money in 2019 to build a student learning center and visitor center, but these spaces will not be complete until early 2020.
Further, we are working to provide an enhanced civic education experience for students visiting the Capitol, but services for the 2019-20 school year will be limited.
Wyoming State Capitol Tours
200 West 24th Street, Cheyenne, WY 82002
Contact Person: Riana Davidson, Legislative Information Officer
Phone: (307) 777-7881
E-Mail: riana.davidson@wyoleg.gov
Average length of visit: 1 hour